KYTileCloseouts specializes in discounted premium tile. The selection includes a variety of closeouts, end of production run, excess, seconds, firsts – and any other possible way a manufacturer decides to blowout their inventory at a reduced price.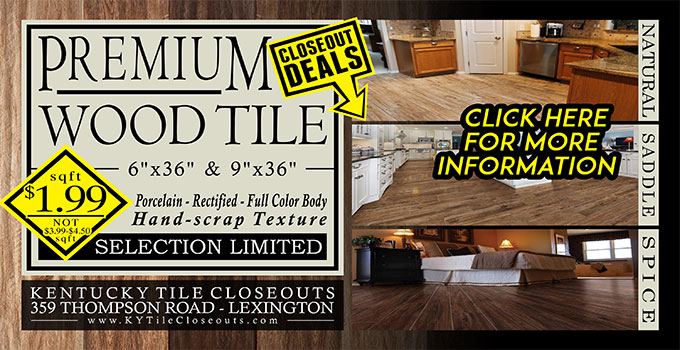 The warehouse inventory is a mix of premium first choice and second choice excess tile inventory. Our focus is offering high-quality porcelain tile that normally exceeds $5 sqft for sale in the $1-2 price range. In fact, some closeout tile deals have exceeded $9 sqft and sold by KY Tile Closeouts at .99 cents sqft.
Our inventory changes often as new inventory arrives. We are not a tile shop in the common sense of the word. We are a closeout tile warehouse. This is warehouse shopping with no design help, handholding, cup of tea, commissioned sales force, nor assistance in loading. You will receive less help and be left to make your decision in private. Warehouse shopping is not for everyone. Although our inventory of in-stock tile is one of the largest in the state of Kentucky, you still have a greater choice of colors at a regular tile shop (at regular price) – as they can order the full catalog from various manufactures. We are not your full service tile shop. Our tile inventory should satisfy the serious discount shoppers with an amazing choice of colors and sizes.
If you like to save money, you just found your tile warehouse!